6 failed attempts at OET, Sinni shocked everyone by earning 4 lacs per month in UK as a Nurse
Discover the inspiring story of Sinni, the resilient 'Kerala girl' who overcame challenges to crack the OET Entrance Exam on her 7th attempt. Now, as a nurse in the UK, she's earning 4 Lacs per month.
Every modest family has that one person who brings the entire family out of poverty. In 2022, Sinoi Sunny Jachin proved to be that person for her family.
In Kerala, India, Sinoi Sunny Jachin and her family could barely make ends meet with a total household income of just 12,000 rupees. Despite the financial challenges, Sinni dreamed of a better life and was determined to make a difference in the field of healthcare.
Sinni's passion for nursing led her to Mumbai, where she secured a job at the prestigious Breach Candy Hospital Trust, working in the intensive care unit (ICU). Her monthly income of 20,000 rupees was a significant improvement for her family, but Sinni yearned for more.
She had set her sights on working as a nurse in the United Kingdom, where opportunities and salaries were considerably higher. With her goal in mind, Sinni decided to take the Occupational English Test (OET), a language proficiency exam required to work as a nurse in the UK and enrolled in an institute for training.
However, fate seemed to be against her as she faced her first failure in her 1st attempt to pass the OET. The setback cost Sinni 35,000 rupees of exam fee and even more for her training. 
But that did not stop Sinni from keeping her dream alive. She was determined to get a job as a nurse in the UK. Sinni started to prepare for the 2nd attempt to pass the OET exam while saving extra money. She had already lost all of her savings in the previous attempt, so she got even more focused and determined to clear the OET exam.
Exam day came, and Sinni performed exactly as she had trained for the exam. But fate was not in her favor. Sinni failed to clear the OET exam again. 
After losing almost 1,50,000 rupees and one year of her young years, all she had was her dreams and the will to achieve them.
By saving every penny that she could and with some help from her close friends and relatives, Sinni was able to give 4 more attempts at passing the OET exam.
After 6 total attempts and losing more than 4 lakh rupees in 3 years, Sinni had almost given up when she saw an instagram post of The Language X, institute for OET training. The Language X conducted a telephonic assessment to evaluate Sinni's language skills and tailored a personalized OET training course just for her.
The Language X also boasts guaranteed 100% refund upon unsatisfied assessment. Sinni began her journey with The Language X, immersing herself in rigorous training sessions and unwavering dedication. By understanding Sinni's skill set and her past experiences , The Language X created a customized training package to help her prepare for the OET exam strategically.
She worked hard, studying diligently, and honing her language skills. The institute's expert trainers provided her with individual attention, addressing her specific weaknesses and guiding her through the nuances of the OET exam.
Months passed, and the day of the OET examination arrived. With renewed confidence and strategic planning and training from The Language X, Sinni approached the OET exam once again. She poured her heart and soul into the test, recalling the countless hours of practice and the sacrifices she had made along the way.
The results were in, and this time, they brought immense joy and relief. After trying multiple coaching institutes, losing more than 4 lakh rupees, and failing in 6 attempts, she finally cleared the OET examination with The Language X on her 7th attempt, scoring Grade B in all four modules. Her efforts had finally paid off, and a new chapter in her life was about to begin.
Sinni's OET Results Table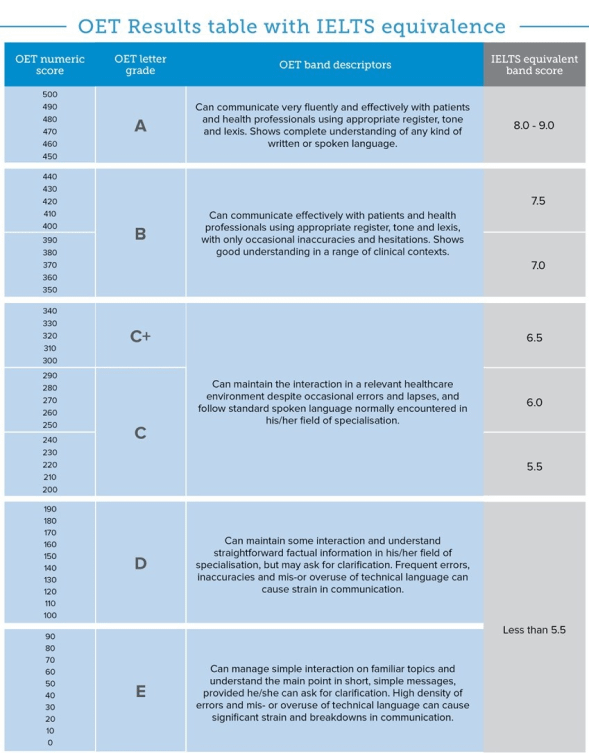 With her OET qualification in hand, Sinni received numerous job offers from hospitals in the United Kingdom. She chose to work in London, where she embarked on a fulfilling career in nursing, earning an impressive salary of 4 lakh rupees per month.
This newfound financial stability not only transformed Sinni's life but also brought hope and prosperity to her family back in Kerala.
As Sinni settled into her new life as a nurse in London, she carried her humble beginnings and the memories of her struggles with her. She never forgot the countless nights spent studying, the financial strain, and the unwavering support from her family. With gratitude in her heart, Sinni dedicated herself to providing exceptional care to her patients, always striving to make a difference in their lives, just as she had once dreamed of doing on her own.
Sinni still believes that the telephonic assessment by The Language X was the turning point in her life. If you are also looking forward to getting a job in the UK like Sinni, you can begin your journey right now by booking your consultation call for a personal consultation & assessment call, just like Sinni, by availing this limited period prices. The Language X is on a mission to help at least 1000 nurses to get their dream job and we are already half way through.
Slots are filling up fast
Remember, The language X doesn't enroll students without a proper assessment.
Want to know more about what The Language X and value you will get out of the consultation call?
Here is limited period access to this free video guide where you will learn the step by step formula to clear your OET exam in the very first attempt.